Government loses clean air court case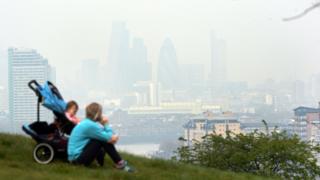 Campaigners have won a third High Court victory over the UK government's plans to tackle air pollution.
The judge in the case said the Government plan was "unlawful" and that more action was needed in 45 English local authority areas.
He said ministers had to ensure that in each of the areas, steps were taken to comply with the law as soon as possible.
The case was brought by ClientEarth, a group of activist lawyers.
Mr Justice Garnham said: "Because the obligation is zone-specific, the fact that each of the 45 local authority areas will achieve compliance in any event by 2021 is of no immediate significance.
"The Environment Secretary must ensure that, in each of the 45 areas, steps are taken to achieve compliance as soon as possible, by the quickest route possible and by a means that makes that outcome likely."
He added: "In effect, these local authorities are being urged and encouraged to come up with proposals to improve air quality over the next three years, but are not being required to do so. In my judgment, that sort of exhortation is not sufficient."
As a result of previous rulings, the government drew up new plans for reducing nitrogen dioxide pollution, much of which comes from vehicles, to within legal limits.
Its latest case was brought against the Environment Secretary and the Transport Secretary, while a claim against the Welsh Government was discontinued after it agreed to work with ClientEarth on new proposals.
A raft of recent studies and reports have linked air pollution to heart disease and lung problems, including asthma.
The Royal Colleges of Physicians and of Paediatrics and Child Health says that outdoor air pollution is contributing to some 40,000 early deaths a year in the UK.
Read more: http://www.bbc.co.uk/news/science-environment-43141467