I Am Going to Die Without This: Regulators Target a Health-Care Lifesaver
Irene Adkins doesn't know how she's going to afford the drugs that keep her alive in 2018. The 59-year-old former building supervisor from Falls Church, Va., suffers from pulmonary hypertension, a rare lung disorder that can lead to fatal heart failure if left untreated. To keep the disease at bay she takes a few pills each day that, together, cost about $150,000 per year. While Adkins's government-funded Medicare plan covers most of the cost, her out-of-pocket portion is about $10,000—a sum she can't afford on her $1,600-a-month disability check.
Like hundreds of thousands of Medicare patients who can't afford the copays on astronomically priced drugs, Adkins has turned to help from a fast-growing corner of the convoluted U.S. health system: patient assistance charities, which are funded almost entirely by drugmaker contributions and help Medicare patients with out-of-pocket expenses.
Now that help is in peril. For the past two years federal regulators have issued subpoenas and scrutinized relationships between drug companies and the charities, which are supposed to operate independently from industry donors. In November the U.S. Department of Health and Human Services yanked its approval from one charity, Caring Voice Coalition Inc., which gave $129 million in aid to tens of thousands of patients in 2016. Caring Voice now says it may not be able to help patients next year. It plans to announce its decision about its future in January.
"It's terrifying," says Adkins, one of Caring Voice's beneficiaries, who has only enough medicine to last until late January and already needs supplemental oxygen. "I am going to die without this."
Patient assistance charities have existed for more than 25 years, but they grew exponentially after Congress expanded Medicare in 2003 to cover prescription drugs. While drugmakers are allowed to help patients who have private insurance directly, such as by giving them coupons to cover their copays, they can't do this for more than 40 million patients on government-funded Medicare drug plans. The government considers this a kickback, one that could steer patients toward higher-priced medications. But it allows drugmakers to donate money to independent patient assistance charities, which can help Medicare recipients with out-of-pocket expenses, as long as the pharmaceutical companies don't exert any influence over how the charities are run or whom they help. The drug industry has warmly embraced this arrangement, with contributions to the seven biggest patient assistance charities jumping from a combined $450 million in 2010 to $1.4 billion in 2016.
Drugmakers' gifts to these charities often enhance their own bottom lines by keeping patients on high-priced drugs, while the companies recoup most of the medicines' cost from Medicare. In some cases, every million-dollar donation from a pharma company to a copay charity can generate up to $21 million in sales, according to a recent report from Citi Research. While this helps patients and drug companies, it has a nasty side effect: By ensuring patients can afford medicines even at staggering prices, it removes one of the few deterrents to fast-rising drug prices.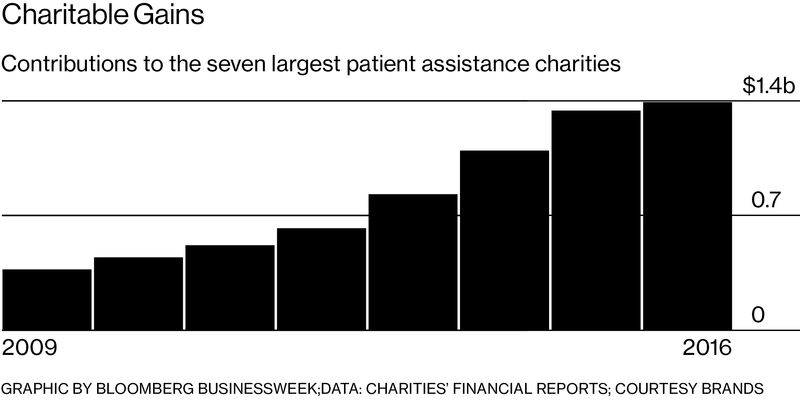 "They became a way for pharmaceutical and biotech companies to charge exorbitant prices without losing customers," says Hartaj Singh, a senior analyst at Oppenheimer & Co. "It shifts the burden of drug prices onto the taxpayer."
Despite government rules, the lines separating drug companies and charities have sometimes become blurred. A investigation in 2016 found that Caring Voice in some cases appeared to give preferential treatment to patients of donor companies. For instance, patients who needed donor Jazz Pharmaceuticals Plc's expensive narcolepsy drug Xyrem got help quickly, while patients using other narcolepsy drugs from nondonors were sometimes steered away or wait-listed. Jazz says it's stopped donating to Caring Voice in favor of another charity and has a program to ensure compliance with federal rules on donations. In a statement, Caring Voice said "we continue to concentrate on ensuring that each of our practices at CVC follow both the letter and spirit of all applicable laws and regulations."
Increased scrutiny by regulators has triggered a wave of subpoenas, fines, and sanctions. Since December 2015, at least 15 drug companies, including Gilead Sciences, Pfizer, and Johnson & Johnson, have received subpoenas from the U.S. Department of Justice regarding their relationships with these charities. Gilead, Pfizer, and J&J say they're cooperating with the probe.
On Dec. 20, the DOJ announced a $210 million settlement with United Therapeutics Corp., a maker of pulmonary hypertension drugs, for using Caring Voice to funnel money to its own patients. The company tracked its donations to ensure that sales from Medicare patients being helped "far exceeded" its donations, the government alleged. Separately, Celgene Corp., which denied wrongdoing, and Aegerion Pharmaceuticals reached settlements with federal and state officials in 2017.
In November, HHS jolted the industry by revoking the favorable advisory opinion it had given Caring Voice. The charity, it said, violated rules by sharing data with drugmakers and letting them influence how it set up its disease funds—potentially steering drugmakers' donations largely to their own patients.
The crackdown has particularly affected companies with Medicare patients on pricey medicine. Makers of costly drugs that treat prostate and ovarian cancer, for instance, said that more poor customers in 2017 were pushed into free-drug programs, where drugmakers or related foundations supply medicines for free, cutting into their profits. Johnson & Johnson said in July that 15 percent of prescriptions for a prostate cancer drug, Zytiga, were via a free-drug program, vs. 4 percent a year earlier. "Funds that in the past [have] been available from foundations are no longer available," said Patrick Mahaffy, chief executive officer of Clovis Oncology Inc., on a November earnings call. "We expect this trend to continue into the foreseeable future."
For some patients, this sets up a scramble to get funds before they dry up. Patients suffering from multiple myeloma, a blood cancer, had only one day in 2017 to sign up for support from the Patient Access Network Foundation, the biggest of the charities. A similar fund at the Leukemia & Lymphoma Society ran out of cash for the first time in October.
For Jennifer Koehler, who manages the medication assistance program at Community Health Network, a health-care provider in Indianapolis, it means she spends more of her time helping patients get aid from these charitable funds. On a recent Friday night, she received an email alert that a breast cancer fund had opened up at one of the charities. She had 15 patients waiting for help, so she immediately sat down at her computer and began to register them one at a time. To her chagrin, she had only signed up five of her patients before the fund closed again. "This year has been a little more difficult than prior years," she says.
The Justice Department's investigation "poses an existential threat to the entire charitable sector that assists sick and financially vulnerable patients," says Dana Kuhn, president of one of the charities, Patient Services Inc., which expects to support 2,000 fewer patients in 2018 because of a 17 percent decline in contributions.
BOTTOM LINE –
Drugmaker-funded charities that help with Medicare patients' copays have become the target of regulators, who worry the companies' gifts favor their own products.
Read more: http://www.bloomberg.com/news/articles/2017-12-21/-i-am-going-to-die-without-this-regulators-target-a-health-care-lifesaver